About #MiniMuralsHou
The primary project goal is to bring art to unexpected places, where there would otherwise be blight.
The project reimagines traffic signal control cabinets (also referred to as electrical or utility boxes) as blank canvases brimming with creative opportunity, inviting artistic expression for all to enjoy. Once painted by local artists, the cabinets, which are located at every intersection with a traffic signal, are intended to help instill civic pride while beautifying neighborhoods and enhancing the urban landscape of Houston.
The "Mini Murals" pilot phase turned 31 traffic signal control cabinets in Houston City Council District K into colorful works of art. The pilot phase was made possible through the support of City Council Member Larry Green's district service fund.
Artists participating in the pilot phase of the project included local Houston artists 2:12, Alex "Zu" Arzu, Ana Maria, Anat Ronen, Dual, Gabriel Prusmack, Jessica Guerra, Lee Washington, Sebastien "Mr. D" Boileau, Pilot FX, Shelbi-Nicole, w3r3on3 and Wiley.
The project continues to grow with more than 220 boxes completed.
Mini-Murals is a fiscally sponsored project of Fresh Arts, a nonprofit arts service organization. Contributions for the purpose of Mini-Murals must be made payable to Fresh Arts and are tax-deductible to the extent permitted by law.
About the Team
Mini Murals is directed by Elia & Noah Quiles of UP Art Studio.
Mini Murals is a sponsored project of Fresh Arts, a nonprofit arts service
organization. (Donations to the project are tax-deductible)
About UP Art Studio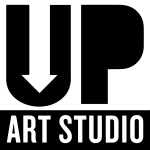 UP Art Studio is a Houston, Texas-based design-house that facilitates art and design projects for urban and contemporary artists, communities, corporations, and municipalities. The studio's mission is "Civic Pride through Civic Art", and they work on projects that educate, move and engage communities through public art.
UP Art Studio is a for-profit organization with a huge focus on non-profit projects, via a fiscal Sponsorship agreement with Fresh Arts (donations to many of its projects are tax-deductible). UP Art Studio specializes in public art projects, mural and art commissions, design services, project management, event planning, and artist collaborations.
UP Art Studio was founded in 2012 by Noah and Elia Quiles, a husband and wife team passionate about public art.