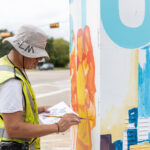 Armando Castelan
Houston based artist with over 20 years of experience working in different mediums.
Currently working full time as muralist and digital illustrator.
Collaborations with Houston Arts Alliance, the Weingarten Art Group and Lawndale Art Center among others.
As a freelance artist, I create art in both traditional and digital mediums. I also design, develop, and produce murals in Houston and surrounding areas, as well as digital illustrations for books and commercial materials.
Artists Work
by Armando Castelan Houston

Near Northwest

by Armando Castelan Houston

Near Northwest

By Armado Castelan Houston

Midtown

By Armando Castelan Houston

District C

By Armando Castelan Houston

Brays Oaks

By Armando Castelan Houston

City of Houston, Gulfton

by Armando Castelan Houston

East End

By Armando Castelan Houston