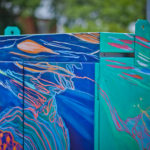 Janavi Folmsbee
Janavi M Folmsbee wants to live in a world where we can close our eyes and imagine a painting into creation. Born in Mumbai, India, in 2005 Janavi moved to the U.S. to study at The School of The Art Institute of Chicago, where she received her Bachelor in Fine Arts. As an artist, she has shown her work in India, Beijing and Europe. Her work has been featured in international fairs like Kunst Rai and Art Rotterdam and in articles in print media such as Harper's Bazaar (Malaysia edition), The Times of India, Verve INDIA & Houston Modern Luxury.
When Janavi is not in her studio creating new work or off on a scuba diving adventure in an exciting location like the Maldives or Turks and Caicos, you can find her visiting The Cy Twombly Gallery at the Menil Collection  in Houston or writing in a new café that she may have stumbled upon.
Janavi currently lives and works in Houston. This year she has begun to work with various conservation organizations such as the Galveston Bay Foundation and continues to grow her relationships with several others to help with Marine Conservation through Art.
Artists Work