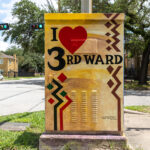 Marc Newsome
Marc Newsome (artist name Marc Furi) is a Houston-based visual communicator with emphasis on storytelling through documentary filmmaking, photography, and satirical comedies. He is a recipient of the Houston Arts Alliance 2015 Individual Artist Grant for his short form documentary, "BY HAND — the Vintage Hand Painted Sign Artists of 3rd Ward". As an independent filmmaker Newsome has worked on and produced independent video projects for over fifteen years.
Newsome was the Houston finalist in the Chase Legacy Film Challenge sponsored by HBO (2008). His five-minute short comedy about the effects of gentrification on an African-American neighborhood was screened in New York at the HBO Theatre. The title of the film is "Here Comes the Neighborhood".
His photography style can be described as documental cinematic in that each of his shots appear as a scene from a movie yet they are in fact not staged and true to actual form. He enjoys taking images of structures characteristic of an area but without people around and on rainy nights so that the structure has its own personality and resonated spotlight from the reflective pavement below.
Artists Work