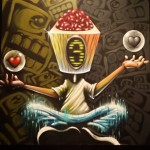 w3r3on3
w3r3on3 (aka) Gelson Danilo Lemus is a Guatemalan-born, resident of Houston, Texas who has been creating works of art for the last 17 years, beginning at the age of 6. He was introduced to graffiti at the age of 14 and has since then established a unique and distinguishable three-dimensional style, which often illustrates movement. w3r3on3 is well-versed in all mediums and styles, and his skills allow him to paint any subject matter.
Over the years w3r3on3 has evolved from painting just for monetary compensation, to where he is now – painting just for the love of art.
w3r3on3 has recently traveled and showcased his artistic talent in Mexico City, where he participated by painting at a Women's Day event, and was an invited guest of, and did a collaboration with, Houston-based artist Ana Maria, at the annual SEL 4 show in San Juan, Puerto Rico, where he also painted with other well-known artists from around the world.
Artists Work
by w3r3on3 x Mez Data Houston

East End, New Hope Housing